Something that I keep seeing throughout catalogs, websites, and fashion magazines this fall is the Poncho. Several years ago when someone would mention the word poncho, I would think of the dreaded plastic looking rain sac you used at football games to keep dry. Now the fashion gods have given us an updated, more user friendly version. There are several styles I have come across lately and they all are pretty affordable and can be used a number of ways. This is definitely a style I will be wearing this fall.
H&M Poncho
- $30
This poncho is probably the most
wanted item this fall! It is sold out
everywhere and is selling on eBay for
at least double its cost.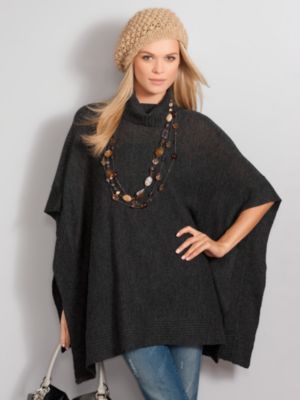 New York and Company
- $34.95
This comes in several colors and is great
to throw over jeans or leggings with boots.
Nordstrom Convertible Knit Poncho
- $78
This poncho can be loose or can be gathered at the waist
for a more fitted look.
Bloomingdale's Collection 59 Belted Poncho
-$186
This is a tad bit expensive, but it is more versatile
than the ponchos above. I would get alot of use out of this one!
Jones New York Toggle Poncho
- $58
This adds a few extra details than the ones above.
Fringe is everywhere this season. A great change from
the simple poncho.
This is how I would wear this trend.
Poncho
T-Shirt
Pants
Boots
Sunnies
Watch
Ring
Necklace
Earrings
Bag
Nail Polish
(Give me Moor!)
This is a great way to wear a poncho. Its comfy, easy and looks great on everyone.