We made it!!! It's Finally Friday, Folks! I don't know about you, but this week seemed to drag on forever! I will be very glad when 5:00 comes! I don't have much going on this weekend, but I just enjoy being lazy and hanging with the hubby and doing nothing.
I have decided to do a fun weekly post on Fridays about people I love, admire, and appreciate what they are doing for us fashion obsessed ladies. Fashion is such a huge part of everyones lives, whether they realize it or not. This weekly post will just be something fun for me to do. It will allow me to express, show, and visually explain my style, or how I see things. These are my opinions and you can agree or not. That's the great thing about fashion, you can agree to disagree and like what you like regardless of trends, or what anyone else says. I hope everyone has a great weekend. We are supposed to get some snow here Sunday or Monday, I guess winter has finally decided to make a visit. Love you all! XOXO
Katie Holmes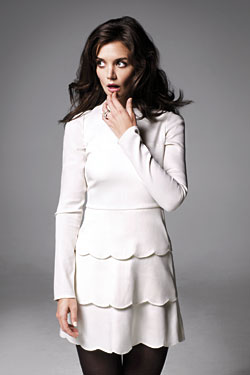 image courtesy of nymag.com
I first "met" Katie Holmes years ago when I started watching Dawson's Creek. I am sure most of you are familiar with that lovely, so I won't go into detail about the show. I remember her as just being this girl next door, simple, and quiet person. Over the past 10 years, she has turned into this gorgeous, classic, and still down to earth woman. Which is fabulous considering she is married to one of the most popular and sought after actors in Hollywood. (not a huge fan of Mr. Cruise, but that's not the point here. ) I think she regained her popularity when she and Tom started dating and has only gone up from there. She was a knock out in Batman Begins,(really upset she wasn't in Dark Knight) and I can't wait to see her in the miniseries "The Kennedy's."
She has become one of the most watched celebrities for her style and fashion sense. She's humble, classy, always on point with her style choices, and makes you feel like you could be one of her best friends. And that is why she is someone I often look to for fashion ideas. I will admit that I have even tried some of her hairstyles out and with no luck, I might add. I did the bob, then added the bangs, and I honestly looked more like Suri than Katie. It was not a good look for me, so I have stuck to admiring her fashion choices instead. She has partnered with Jeanne Yang and started a clothing line called "Holmes & Yang" with clothes that are comfortable and perfect for the working mom. Her collection is sold exclusively at Barneys New York.
It's hard not to read about or watch Katie and not get inspired. She is the perfect example of how low maintenance, girly, classy fashion can be done, and done right. I adore her fashion sense and ability to stick with the trends, but do it in a subtle way. She doesn't over-do things, and because of that, she is recognized cover after cover, interview after interview, as a style icon.
She is on the cover the February issue of
Elle
, and if you need more reasons why this girl is on my go-to list, please check this issue out. There are some amazing pictures of her as well as her interview about her upcoming miniseries where she plays Jackie Kennedy. You can also check out the interview she did with
nymag.com
.
I will leave you with a little inspiration from her photo shoot with Elle. She's absolutely stunning, isn't she? I mean flawless. Alright, alright, I'm done obsessing.
I really can't deny it, I am who I am. I'm pretty normal. I'm not that smooth type of girl. I run into things, I trip, I spill food. I say stupid things... I really don't have it all together.'
-
Katie Holmes
Who is your style icon of the moment? I would love to hear your favorites!