Unless you have been living under a rock, you know that last night was the always fashionable Golden Globe Awards. And I must say, overall I was really impressed with the fashion last night. I thought there was a lot of variety and the overall look or "theme" if you will, was classy and elegant. Two things I am always a fan of and will never go out of style. There were some not so elegant dresses last night, and I always wonder what they or their stylist's are thinking when choosing a dress for such a glamorous occasion.
Best Dressed List
Angelina Jolie looked stunning!! I have become a HUGE fan of green, and this Atelier Versace gown is absolute perfection!
Olivia Wilde wore this gorgeous Marchesa Gown. I did a post on
Marchesa
a few weeks ago, and this dress was just as amazing as I had expected from them.
She also wore these ridiculous Christian Louboutin Shoes! Obsessed with these!!
Quite possibly my favorite dress of the night! Anne Hathaway wore Armani Prive and looked flawless. Great Job Rachel Zoe for this dress pick!
I will admit, it took me a little bit to warm up to Emma Stone's whole look last night. But in the end, I really loved this Calvin Klein dress on her. It is a great color and she looked amazing in the dress. Not too sure how I feel about the really blond hair, but overall it was a win for me.
Amy Adams is one of those girls who you just love, and looks great in just about anything. And last night was no exception. Again, another Marchesa creation that I LOVE! The laser cut details are amazing.
Eva Longoria always looks stunning on any red carpet. I loved how simple yet elegant this Zac Posen dress was. And you can't go wrong with Black. She was definitely a knock out! Eat your heart out, Tony Parker!!!
Although I feel that Lea Michele is a little too thin!, I do think this Oscar De La Renta dress was gorg on her! This is going to be a great color for Spring.
Mila Kunas caught my eye in this fabulous green gown from Vera Wang. It hugs every her body so well and she looks stunning. I like that her hair was out of the way, so all your attention would be on the dress.
Last but not least, my favorite country girl, Carrie Underwood. She looked fabulous in this Badgley Mischka gown. I love the style, color, and of course all the sparkle. She is always a best dressed for me.
Not So Best Dressed List
Jennifer Lopez looked less than stunning in this Zuhair Murad dress. The cape is all kinds of wrong, and it made her look really old and dated.
There is a lot wrong with Julianne Moore's Lanvin dress. It's wrinkled and creased everywhere, it looks too big, and it just doesn't suit her well. I love the color, but the rest is a mess!
I liked nothing about Christina Aguilera's look last night. The Zuhair Murad (also designed J Lo's dress)
dress was horrific, her makeup was terrible, and her hair was just blah!
As if Helen Bonam Carter's Vivienne Westwood dress wasn't an obvious disaster, she added mismatched shoes, and put a birds nest of hair on her head. I know she is out there and doesn't care what people think, but it looked like a 2 year old dressed her. Awful!!
I expected much a better dress choice from Michelle Williams last night. This Valentino dress looked like she was going to prom, or better yet a garden party. And her hair is getting a little too short in my opinion. Hopefully she will win me back at the Oscars.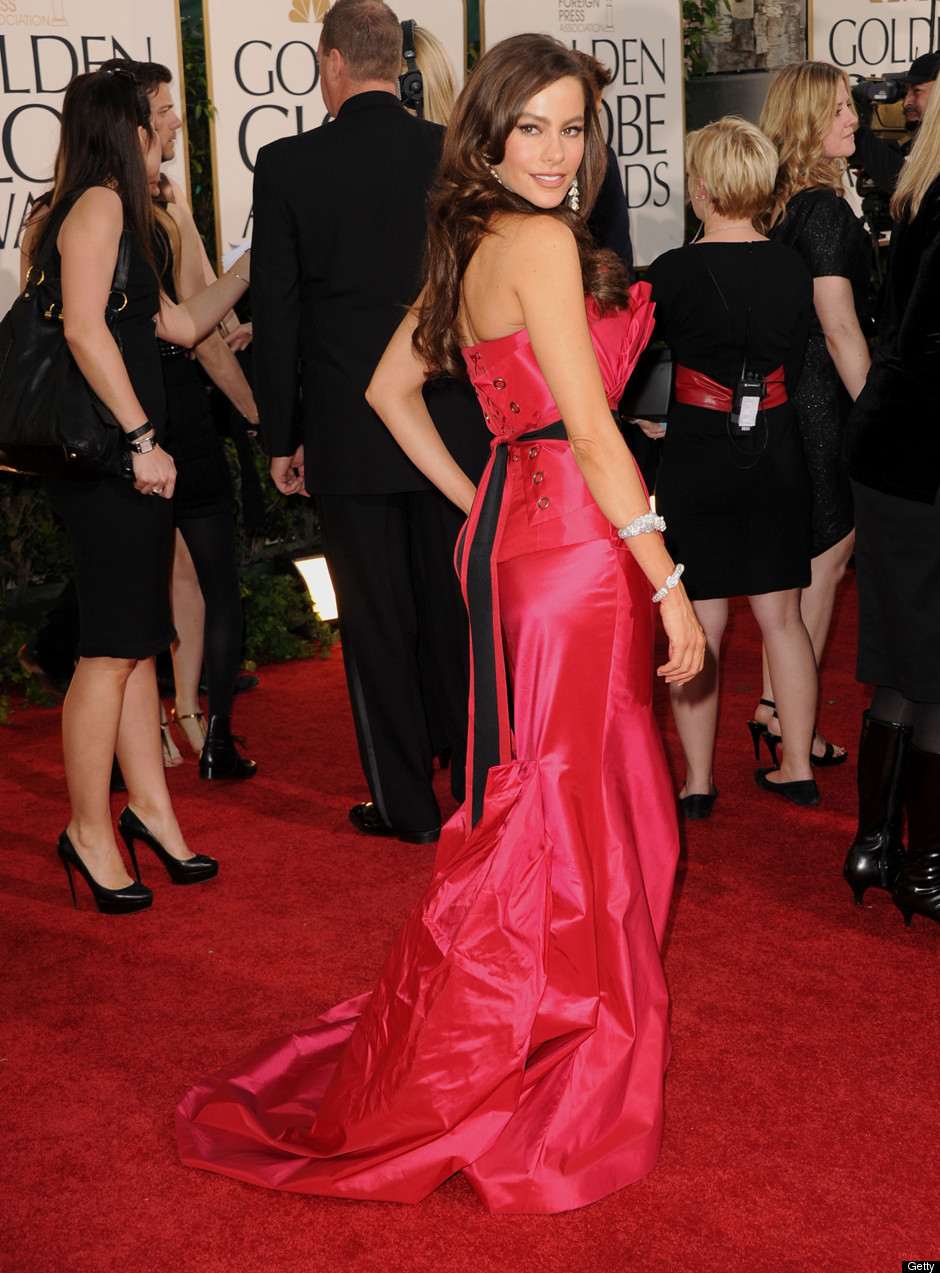 Before I get comments on this one, let me explain. I LOVED Sofia Vergara's dress . . . From the front! But
the reason she is on my worst list is because of the back of this dress. It's horrific! It was too casual and immature for me. Totally did not see Vera Wang making the back look like it did. So sad, because this dress from the front is amazing!
Heidi Klum looked less than amazing last night. This Marc Jacobs dress looked like a hot mess last night. I think if the bow in the front was taken off, this would have looked better. I just felt it was a little to casual for the red carpet.
Oh Jennifer Love, I am so not loving this Romona Kaveza gown choice on you! It is very unflattering and just does nothing for your figure.
What was Tilda Swinton thinking wearing this Jill Sander table cloth like dress on the red carpet? It's appalling!! Awful! Just wrong!
On the Fence
Still not sure if I am totally sold on Natalie Portman's Viktor and Rolf dress. I think the flower is what's throwing me off. The color, fabric, and design of this dress is amazing, and she looks stunning. But the flower is keeping me from dying over this dress.
I'm on the fence about Leighton Meester's Burberry Prorsum frock. To me it looks like she stepped off the set of her movie "Country Strong." I think it's the sleeves that are throwing me.
Christina Hendricks is one sexy woman. She has curves and loves to show them off. As much as I love her in this Romana Kaveza dress, I feel that her hair should have been up and out of the way. It's just too much red, and makes her look even bulkier on top.
Who were your favorites? Anyone I missed?
I hope everyone enjoyed the fashion as much as I did. It's always fun to see what your favorites stars are wearing, and if you were right in picking the style they would wear. Can't wait to see what everyone wears to the Oscars.
All images are from wire image, just jared or huffington post.