Yesterday kicked off 2011 Fall New York Fashion Week. I am sure most of you knew that, but I wanted to give you a peek at some of my favorites from some of the shows yesterday. I am hoping to do this each day, just to give you all an idea of what the trends are going to be for next fall. I know a lot of us are in bitterly cold temperatures and thinking about Spring, but some of the trends that are going to be in for Fall 2011 could be on sale right now. And this would be the perfect time to snatch those lovelies up, and even try them out now.
Mixing rich colors, casual looks, and structured pieces, Luca Luca has designed a gorgeous line for Fall. He is definitely one of my favorite designers. He just knows what looks good on women, and how to drape fabrics to make us look fabulous. I am really excited about his collection. 
Rachel Comey mixes pattern and prints with structure in her Fall collection. Wool was a common thread in all her looks. Orange was also very present in many of her looks. Which is a great color for fall.
Christian Siriano's collection was a mix of black and grey with classic details. Leather and Fur were big trends on his runway, and though usually these two details mean edgy and rough, his looks were very feminine and classic. These looks any woman can wear, for work or play.
Office and School Girl Prep was a underlying theme at Wes Gordon. I could see many of his looks on the ladies of Gossip Girl. His clothes just fit and have such great detail. The fabrics are rich and look gorgeous on.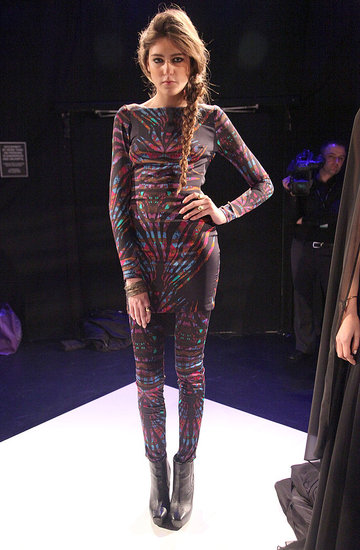 Mara Hoffman's collection had a lot of crochet and geometric patterns. Her style is a bit edgy and casual at the same time. Some of her maxi dresses were my favorite looks.
I LOVED every look from Whitney Pozgay's "WHIT" Collection. The looks are very ladylike and the detail, fabrics and proportions are playful, but her looks are very mature and wearable.
Yellow and Sequins at the Jenni Kayne show.
High-Waist Trouser and mixing black and brown at Vena Cava.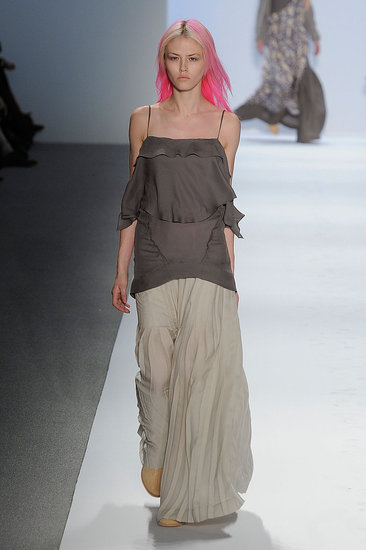 Lots of grey and stone pairings and black (which I love) at Richard Chai. Also a lot of maxi skirts and dresses, which I am really excited about!
Lots of laid back, casual looks at Steven Alen. Love these trousers and the pop of color with the red shoes!
Fur and Capes are back on the runway at BCBG Maz Azria, as well as nuetrals, blues, and blacks. I watched this show live this morning on their website, and I noticed the cream dress above in several different colors on the runway. I like the idea of taking a dressier dress and making it casual by adding the turtleneck and boots. I also love this pop of color on the BCBG runway too. I like when designers use some color in their Fall lines. It's a nice change from the neutrals and darker colors.
Nicholas K's runway was filled with what I would call "grunge, relaxed and casual." And I don't hate it, to be quite honest. I am not sure if this is a look that I could pull off, but I love the boldness of the looks, and how he makes messy,thrown together style look fashionable. I am looking forward to seeing if this trend makes it was back to Fall 2011.
Images from fashionologie.com and style.com.