Sunday was another day packed with shows of more well known designers. If you are even a little bit into fashion, the designers of yesterday's shows should be really familiar to you.
Satin, Feathers, and Vibrant Prints on the runway of
Lela Rose
. To me, this collection is very mature and modern but also a little playful. I can see these styles on executive women, as well as twenty-thirty somethings.
Seventies chic was also apparent on the runway at
Derek Lam
. I have been a fan of his since I was in college. and his fall runway looks did not disappoint. It looks like socks with heels, blazers, plaid, and leather are also top trends for this designer. The overall theme I grasped from this collection was Modern City Chic. These looks are definitely relateable.
Grandpa plaids, neutral palette, pleated palazzo pants gave a seventies vibe at
Tory Burch
. I wasn't expecting this from her, but am pleasantly surprised with how she paired looks together.
It was mostly a business chic theme on the runway of
Preen
. I love the sophisticated vibe of the looks. the details on this shirt above is amazing and so romantic.
Victoria Beckham's
fall collection was filled with earth tones and pops of rich reds and yellows. I love that burgundy is making a comeback. It is such a rich and sophisticated color. I love this new sweater dress she's designed for the fall. Looks so warm and cozy.
Black and Red were the two most prominent colors on
Diane Von Furstenburg's
runway yesterday. I love how she did bold Aztec patterns and layered many of her looks. I also love the bits of bright blue that she had in this collections too.
Max Azria
did not disappoint for the Fall season. Army green, neutrals, and blush pink were the colors of choice for his runway. I love how he mixed strong pieces with dainty, feminine ones. The models were all in ponytails and brown chokers, which added a sleek and uniform look to the show.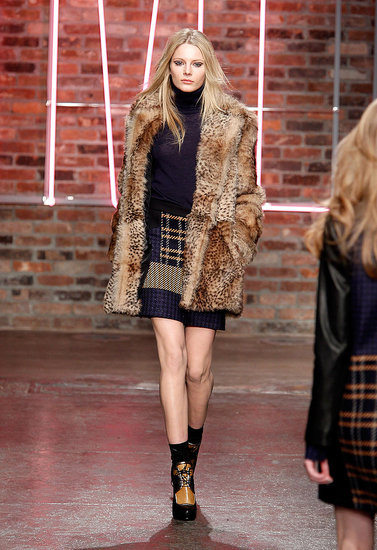 The vibe for Donna Karen's
DKNY
collection was city girl chic. With red blazers, super coats (capes), mixing red and pink, fur and socks with heels, DKNY's young fresh hip looks are ones you want to check out for next fall. I seriously loved every piece and will definitely own some of them for fall. She knocked it out of the park this season!
Behnaz Sarafpour's collection was filled with slate, powder blue and taupe hues. Her unique tailoring and structure of garments definitely stood out, and gave off this luxe, warm feel to her clothes.
I was really looking forward to Cynthia Steffe's Fall collection. She is a designer that has been on my radar, so to speak, for a while and I just always find myself gravitating towards her designs. She used rich jewel tones mixed with black, and it was gorgeous. She also had fur and tights on many of her looks as well. Her style is definitely one I can see myself wearing.
Thakoon's fall runway collection pairs blue and red in this rich plaid pattern. I really liked how vibrant it was. Though this is high fashion, the looks can translate to a more casual population. I can totally see this look in many retails chains for next fall.
The looks at Malendrino were very Parisian Chic. From the crushed velvet hats, to the super clean lines. Her collection screamed ultra luxe, and came across very wearable.
images are from fashionologie.com and style.com