This is the last post of NYFW. Sadly, it came to an end yesterday. I know my hubby will be glad to have me "back." I have been in Fashion Week mode for 8 days now, and I think he will be glad to come home to a wife who isn't on twitter, her laptop, or her phone until it's time for bed. But fashion is my weakness, my addiction, my safe place, and fashion week is like the super bowl for me! Luckily he understands and has been very supportive and ok with how I have been the last week. I now get what Rodger is talking about when it's fashion week and Rachel is so obsessed and not in reality so to speak. It is totally possible to get so swept up in all this fashion amazingness, that you forget about your "reality." But enough about that, let's talk about the shows and designs from Thursdays shows, shall we?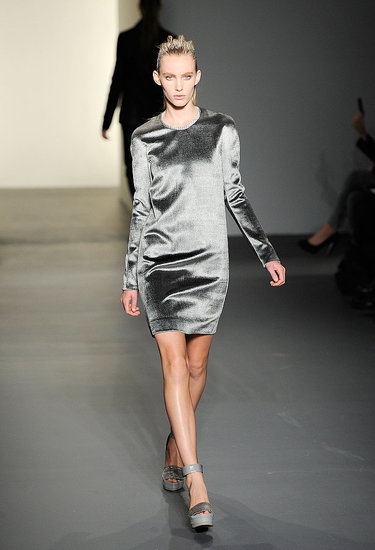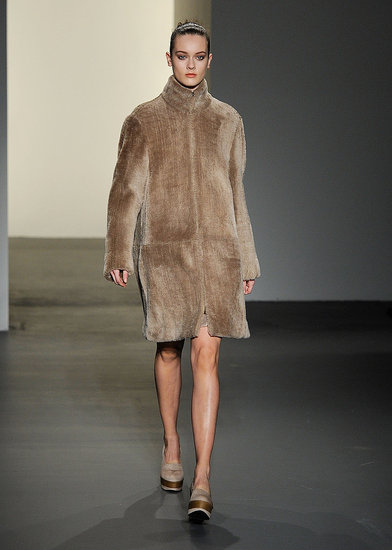 Calvin Klein's
fall collection was all about texture. Most of his designs were dresses and coats, but they were still as luxe and gorgeous as past collections. I love the simplicity of these designs. It just shows that with the right design and fabric, a basic shift dress can become this amazing design.
Dark and Edgy are the two most accurate words to describe
Ralph Lauren's
fall collection. And most of use are used to seeing more "Hampton's" type looks from him, but for fall, its anything but that. With rich burgundy velvets, and black satin and fur, these designs are a bit Asian chic. Which seems to be another underlying theme in collections for this fall.
I can't think about Gwen Stafani without saying B-A-N-A-N-A-S. And that is just what her L.A.M.B. fall collection was, Bananas!!!! Leave it to Gwen to have the last show of fashion week, and knock it out of the park! She is so unique and can take such a funky outfit, and make it mainstream. I am not sure if other people would think so, but I truly believe that I could rock these looks. She is that talented and convincing.
I don't have to say much about Naeem Khan's fall collection. The designs speak for themselves. Absolutely stunning! The detail that went into these dresses is beyond perfection!
I was really excited to see L'Wren Scott's fall collection. I have seen many of her designs on celebrities and on the red carpet, so I was eager to see what was in store for next season. And she did not disappoint. There was a lot of black, but she also chose a rich jewel tone palette, that was just glamorous. Pale, blush, and rose pink for definitley colors to add to your wardrobe next fall. They have been seen everywhere, and are a great compliment to greys, browns, and blacks.
With a mostly black and white palette, Jeffrey Monterio's fall collection for Bill Blass was all about clean lines, uber sophistication and chic business looks. Asymetrical designs were also seen in this collection as well. There is just something about pairing black and white together. It is such a simple design concept, yet it evokes such emotion and style. If done right, pairing black and white together gorgeous, but done wrong and you look like a chess board.
Hopefully from my NYFW coverage you were able to get a good grasp of what's to come next fall. I will do a Fall 2011 trend recap post of the hottest trends sometime soon, so you can have it all in one place. I hope you enjoyed following along with all the shows as much as I enjoyed watching and writing about them. Until next season, my loves.
Have a great weekend! See you Monday.
images from fashionologie.com and style.com