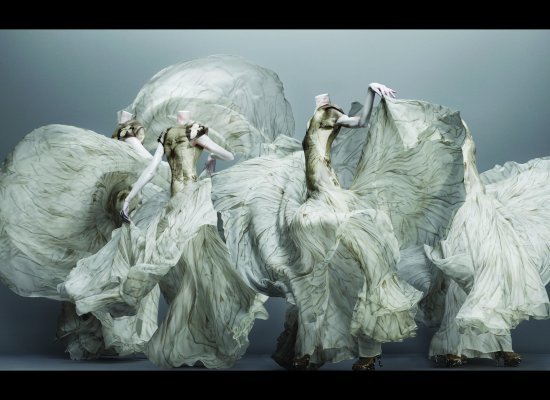 "It's a new era in fashion - there are no rules. It's all about the individual and personal style, wearing high-end, low-end, classic labels, and up-and-coming designers all together."
— Alexander McQueen
The last day my mother and I were in New York, we went to the Met to see the Alexander McQueen "Savage Beauty" Exhibit. It is one of the most haunting, beautiful, and creative collections of fashion I have ever seen. He was such an amazing designer and put so much passion and love into each garment he designed. Some of his designs are really dark and come from a place that you feel is really disturbing. Then you look in the next room and see designs that are feminine and have a romantic aspect to them. I was definitely in awe of his collection, and in some ways inspired by it as well. He lived his life through his designs and you could feel that while looking at all of them. I was engrossed in every piece as I read what it was from, what it was made out of, and his idea behind the creation. It is always interesting to hear what the designer was thinking or feeling at the time of creating their clothes. I always envision my idea of what they might have been thinking, but it is really telling to hear the actual story of how things came to be.
Alexander McQueen was one of the most influential and imaginative designers of his time. He challenged the norm, and taught people to think outside the box. Below are some of my favorites from the exhibit. There were so many garments that it would be the longest post in history if I tried to get them all on here. We were not allowed to take pictures, so I had to rely on my fashion/internet resources to give you an idea of what we saw that day.
I did buy the
coffee table book
and a set of postcards. I am going to matte the postcards in frames and hang in my bedroom. I think it's great way to remind me of why I started this blog and continue to do it. Fashion is one of the most influential industries of our time. It can cause so many emotions and so much can be expressed and portrayed through clothes. It's inspiring to me and I feel that it will always be something I have a passion and love for.
If you are in New York, I highly recommend going to see this exhibit. It will be at the Met until August 7th. Even if you aren't an avid fashion lover, you will come away with a totally different perspective on him, life and fashion in general.
images via huffington post, google, and washington post
Have a great weekend!! I have a few fun things going on this weekend, and am excited to just relax and catch up on my long list of to-do's!
See you all Monday!! XOXO