Good Morning, Lovelies!! I hope everyone had a great weekend! Mine involved cleaning, relaxing, and a little bit of packing. I will say, I started making a list of things I needed to take with me to New York, and almost had a small panic attack trying to figure out how all my precious, clothes, shoes, jewelry, and bags were going to get there safely. I think I have that under control, so now all I have to do is pack them.
I usually like to wait until all my magazines come in the mail before I start looking through them. I don't know what it is, but I like having 5 or 6 magazines to sit down and look through, especially fashion magazines. The September issue for every fashion magazine is usually the biggest, and in my opinion the best. They are filled with amazing finds for the fall season.I get so inspired looking through all the pages and tearing out looks or pieces I want to have for my inspiration folder. As I was thumbing through all the issues yesterday afternoon, I couldn't help but notice all the department stores who are now partnering with designers or are carrying runway-esque designs for a fraction of the price. For example, K-Mart, Kohls, Sears, JC Penney, and Target to name a few. If you were to ask me a year ago if any of these stores were a go-to for of the moment fashion looks at a great price point, I would have said absolutely not. I usually, and still do, go to H&M, ZARA, Topshop, and ASOS for that. But my how the times have changed. Although I don't agree with the price points of some of the collections at a few stores, I still think they are broadening the realm of fashion and making it affordable to those on a more strict budget. Below are some of the collections I have found that have some great fashion buys, and are easy on the wallet too!
French Connection at Sears
Simply Vera for Kohls
Graphic Dress
JC Penney $49.99
Faux Leather Shorts
JC Penney $29.99
Savannah Boot
JC Penney $69.99
These are from the new Kardashian's line for Sears. Although I do like some of their pieces, I feel that this is a high price point for the typical Sears customer. $99 for a blouse, to me, is a little much coming from Sears. I am sure they will not have a problem selling, since those girls have such a following pretty much everything is sold out online. I think you could find something similar at H&M or Zara that would be a little cheaper and still look great.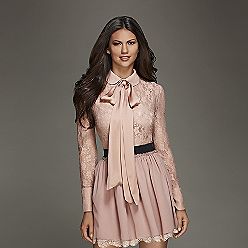 Lace Button up with oversized bow
Sears $96.00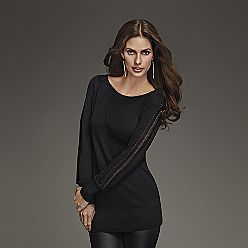 Tunic with ladder sleeves
Sears $72
Here is the link to K-Mart's fall collection. Um, can we say wow! Who knew K-Mart was so stylish and a place to look for fashion at a great price point! LOVE!!
Images from People Stylewatch September Issue, InStyle.com, Sears, and JC Penney.