WOW, Friday's shows did not disappoint. I will be honest, I was really looking forward to seeing a lot of the designers that were showing today. I have seen their previous collections, and absolutely loved them! A couple of them were streamed live from their websites, so I was able to see them in person! And I was more than thrilled with their collections. Here are some of my favorites from yesterday's shows. 
Doo Ri's collection is edgy, dark, and tailored. I love all the details she has in her clothes. I love how many deiginers are mixing black and blue together. So chic.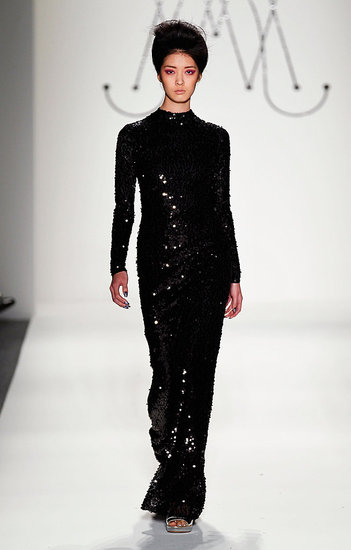 Ruffian's line was filled with satin, lace, sequins, and fringe. He paired very feminine looks with masculine jackets, vests and pants. I almost got a feeling of being in Alice and Wonderland. Not sure why, but that's what came to my mind when I saw this collection.
A pop of color was a theme in Peter Som's collection. From the colorful shoes by Charlotte Olympia, to the bright orange jacket, shirts, and pants. Sequins, fur, leather, and florals were also a trends on the runway.
I could do a whole blog post on Jason Wu's Fall Collection. His looks were GORGEOUS! Everything that came down that runway, I want to add to my closet. The femininity, details, colors, and tailoring were to die for. The framed bags were gorgeous. I loved the ankle length pants, and the feather and sequin dress the most out of all the looks. His looks are very understated and speak for themselves. You don't need much else when you wear Jason Wu.
Rebecca Taylor's show was feminine and full of color. It was nice to see more color on the runway, than mostly dark colors. She just proves that you CAN wear color in colder months! I love her use of ruffles, lace, and sheer fabrics. Very delicate and feminine. Her coats and bombers jackets are gorgeous, I would love to get my hands on one, or two maybe.
Rebecca Minkoff's show was TO DIE FOR! To me, she designs clothes that the "average" woman can wear. All of these looks (except maybe the leopard catsuit) are ones that any woman could pull off. She has cozy sweaters, leather, fur and lots of texture. I loved her bags and tuxedo jackets. These looks are ones I definitely have my eye on!
Mixing Patterns and Color was ever present at the Rag & Bone show, as well as menswear inspired looks. There was a real 70's vibe to their looks. I loved their Over the Knee socks too!
Costello Tagliapietra's looks were fresh and feminine. I love the bright colors and the use satin in almost every look. Which is a little unusual for fall looks, but I really liked it!
Orange was a also trend on the Nicole Miller runway for Fall 2011. She had a lot of geometric cut outs and I loved how she used "out of this world" type textures and patterns to create at sleek look. There was lots of black too, which you know I am always a fan of.
Cynthia Rowley's runway featured a lot of Crushed Velvet and skirts with high slits. There were also pops of yellow mixed with blacks and blues.
Images are from fashionologie.com and Style.com